SEATEK comprises among others the following equipment.
Pumps, high / low pressure for hosing, pumping
Pneumatic cutting – grinding equipment
Hydraulic pack with various tools – Propeller polishing
Bottom / propeller cleaning equipment, high pressure with built-in air cavation.
Side Scan Sonar, Lovrance HDS GEN2 Touch
ROV, Remote Operated Vehicles, SEABOTIX LBV150SE
Underwater metal detector, Fisher Pulse 8X with 16 "coil for deep localization down to 2 meters depth.
Blasting equipment, the possibility of directional cut and beam loads household shipments, etc..
Cutting equipment, Proco
Welding equipment, Esab 400 amp
Video,
Handheld video in great quality with adjustable lights, in both close up and overview.
Helmet mounted camera, so the surface can monitor the diver's work on monitors
Also used for inspections, so the ship and class inspectors can follow the inspection beyond the handheld video.
ROV video cameras are black/white low light, and color are in Svideo quality
Lifting Bags, 100 kg, 200kg, 1000kg, 2000kg, 3000 kg
Survey equipment, possibility for RTK-DGPS positioning
Astech DGPS, Reson Navisound 215 2 freq. Sonar
Simrad DGPS,SDGPS, Simrad 2 frq Sonar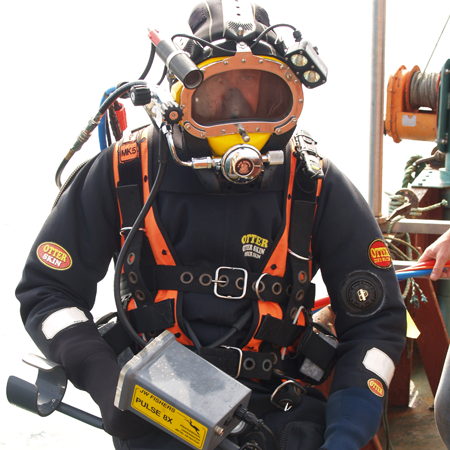 Sonar prints of specific areas.
High pressure Bauer compressor´s for ordinary air diving
Booster Pump, Stages for high nitrox mixtures, helium mixtures as well as pumping clean O2 to 300 bar.